Today, millions of people every day, around the world, enjoy sweet and savory products that include one of our fine products.
We offer an ever-growing portfolio of off-the-shelf products and custom formulated products that include bakery fillings, bakery mixes and concentrates, beverage bases and syrups, sauces and spreads, fruit and specialty toppings and other specialty ingredients.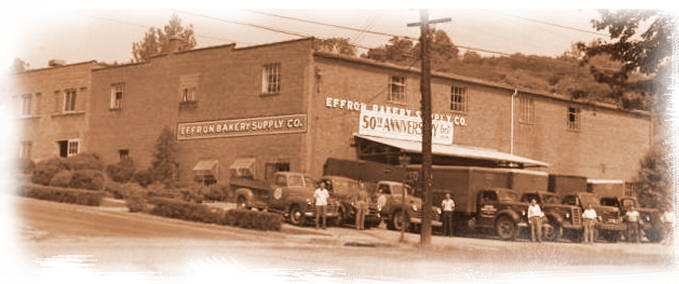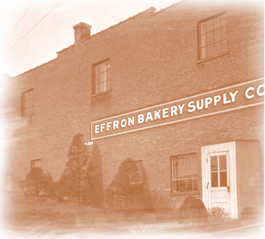 Some things will never change… and we're fine with that
Imagine a horse drawn cart trotting along a network of roads in the picturesque Hudson Valley Region of New York over 120 years ago. The flour carried on that cart was the first product available from what would become EFCO Products Inc. based in Poughkeepsie, NY.
Our initial product line gave birth to an ever growing name and reputation, synonymous with superior quality and integrity. Maybe that's because the business was family-owned in a time when a family name was the most-prized commodity. In that regard, little has changed in the 100-plus years that the Effron family has provided products to bakers looking for only the finest ingredients. While our product line has expanded greatly from that elemental bag of flour, and distribution has come a long way from horse and buggy, our commitment to quality, unrelenting business principles and customer relationships will always remain.
EFCO takes extraordinary steps to insure safety, best practices and top quality
Safe Quality Food (SQF) Certified
Safe Quality Food (SQF) is a credible food safety and quality program that is recognized by food service providers, retailers, and brand owners worldwide. SQF is a HACCP-based standard that includes Pre-Requisite Programs (i.e. GMP, Allergen, Preventative Maintenance, etc.) and Food Safety Quality Systems (Batch Testing, Approved Supplier, Traceability, Product Security, etc.) to ensure quality and food safety. SQF is driven by a commitment from all to ensure that policies and procedures are adhered to and understood. We all have a role to play in SQF. "Say What You Do, Do What You Say, Prove It".
Hazard Analysis & Critical Control Points (HACCP)
Potential biological, physical and chemical hazards are controlled through our rigorous HACCP program. This preventative program ensures that our food products are safe from food-safety hazards. Our dedicated teams of experts —an HACCP Team and a Food Safety Committee— meet frequently with the sole purpose of monitoring and enforcing quality controls in food safety as well as other areas of our business. In addition, our QA Department strictly monitors CCPs (Critical Control Points) and CPs (Control Points) for immediate action to keep quality at the highest level possible. Our goal, first and foremost, is to ensure that our customers receive only safe, high quality products.
Good Manufacturing Practices (GMPS)
Based on FDA guidelines, Good Manufacturing Practices (GMPs) comprise the foundation of EFCO's quality program. These practices include self-audits as well as third-party ASI audits which monitor all facility operations, employee behavior and other programs.
Roundtable on Sustainable Palm Oil (RSPO)
The Roundtable on Sustainable Palm Oil is a global, multi-stakeholder initiative on certified sustainable oil palm products. Check our progress at www.rspo.org/members/7229
Allergen Control Program
More and more, allergens pose a threat to food preparation and safety. That's why EFCO created its Allergen Control Program. In addition to known allergens, the program controls inadvertent contamination via procedures that regulate numerous areas such as ingredient receiving, labeling, allergen storage, rework usage, equipment and utensil sanitation, allergen testing and employee training. This thorough program proves time and again that it is very effective in preventing inadvertent allergen cross-contamination.
Batch Testing
The quality control efforts are never lacking at EFCO. We diligently test every batch of product we produce. That's right. Every batch undergoes rigorous product testing as well as sensory evaluation in our QA laboratory. This high level of detail keeps EFCO products at the forefront of quality in the foodservice industry.
Approved Supplier Program
At EFCO, we are very careful in selecting our suppliers and products into our manufacturing program. We have a strict code that quality and safety are never compromised for the sake of low cost or previous vendor status. All ingredients used at EFCO undergo our "ingredient approval process" before entering the production process. In addition, all ingredients and suppliers must be approved by our QA Department before being approved for use in any of our products. From that point, each ingredient is thoroughly tested before being integrated into our products. Vendors we decide to use are also required to submit documentation such as (but not limited to) Continuing Commodity Guarantees and Third Party Audits to maintain superior levels of sound, sanitary practices in the processing of our ingredients.
Product Security
We're pleased that EFCO products are now ordered and used all over the globe. While this does open up the channels of distribution, it also creates the need for unrelenting scrutiny against any intentional contamination of the food supply chain. In order to minimize any threats, EFCO continually conducts risk assessments and has even established a Food Security Program. This program vigilantly monitors facility and perimeter security, electronic data security, employee screening, and visitor policies—in essence, anyone or any intentional acts that might jeopardize the safety of our products. Additionally, EFCO's Security Committee regularly conducts Security Audits and is registered with the FDA as required by the 2002 Bioterrorism Act.
Traceability
It's clearly a digital world, even in the foodservice industry. EFCO has implemented a wireless, electronic system that will allow us to trace raw materials from the point of receiving, through production, to finished goods, and finally to customer shipments. Through the use of barcodes, we can know at a glance the status of every raw material and finished product.
The commitment to safety and quality standards is an ongoing process at EFCO. We never rest in our diligence to proactively manage food safety and customers can be assured that when they buy from EFCO, they are buying only the finest, safest products available.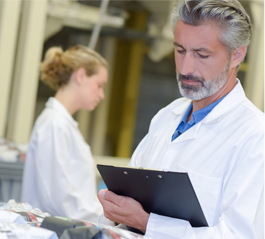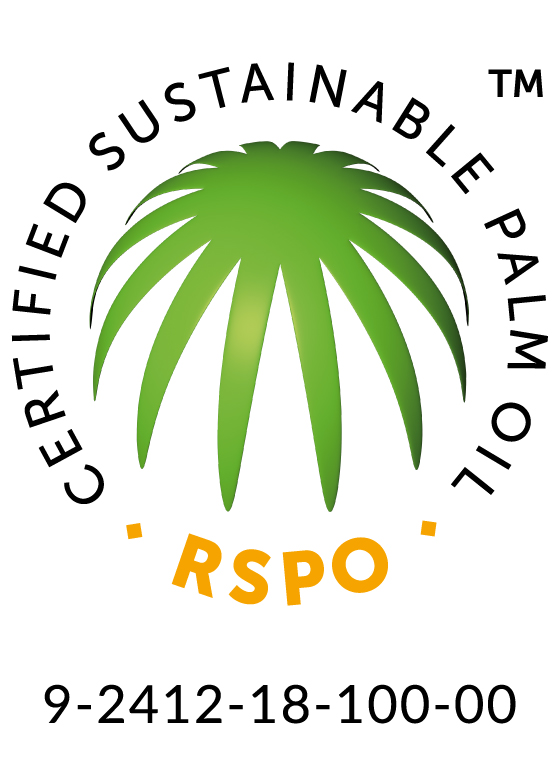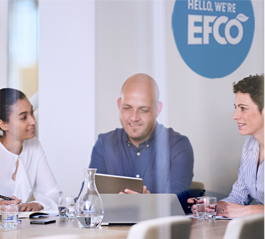 At the center of who we are sits five core competencies


The foods we enjoy are central to so many of life's favorite moments. Refreshing drinks, savory dishes and sensational desserts are an immense part of how we experience the world around us. As the world changes with the constant fusion of cultures and flavors, EFCO is here to help you anticipate them through the ideas, innovation and collaboration we bring to the table. Tastes may change, but our ability to delight your customers day-in and day-out is why so many companies around the world turn to EFCO.
Intimate Service
There's no denying it, we have a thing for great service. Actually, remarkable service. And that's because we're passionate about helping you succeed. It's the kind of service that is collaborative – your team and our team. Our ability to provide exceptional service is a full EFCO team initiative. It's the kind of service you can only truly understand by being an EFCO customer.
Manufacturing Know-How
The word no doesn't exist in our vocabulary. EFCO has the manufacturing know-how to produce items from fruit-based fillings and baking mixes to dessert toppings and shelf-stable cream cheeses. The core of what we're here to do is to use our manufacturing prowess to make sure we deliver exactly what you and your customer are looking for.
Ingenuity
We say ingenuity is just the beginning. We don't know a better way than to put our team's passion into action. It is our exposure to the world's tastes combined with this passion for new sweet and savory foods that inspire us to bring ideas that add value. Keeping your customers elated; keeping them coming back each day, week–for more, is what EFCO is here to do.
Research & Development
Nimble. Experienced. Trendy…Thump-Thump. That's your heart beating fast as you come to learn that EFCO has food science and culinary experts – on staff. This team works day long (sometimes night long, too) in our state-of-the-art product development kitchen to create and experiment with new ideas and samples. Turns out playing with food isn't a bad thing.
Audience Insight
It's one thing for us to know your business, but we also go to great lengths to know your customer. We understand their preferences and what connects them to your business. That becomes inspiration for us and relevance for you. Together we can create beautiful sweet and savory dishes that capture the tastes your customers enjoy with their family and friends.
Quality now has an international flavor

EFCO has come a long way from the days of delivering flour on a horse-drawn cart. Today our products make their way all over the globe due to our expansion in international products and https://egfwd.com export capabilities. Our proximity to New York City allows for excellent access to ports and key railroad lines that take EFCO products to places never even imagined 100-plus years ago.


In order to serve our global market we offer the following capabilities:
"Clean Label" Fillings and Mixes which use natural colors, certain non-GMO ingredients while also eliminating corn syrup
Extensive experience with international food regulations
Kosher and Halal certified products
Strong experience in international shipping and finance
Current business markets in Asia, Middle East, Latin America, Europe and the Caribbean
Development of several bakery ingredients to please international tastes and flavor preferences
Custom formulation of products and related support